A little history
When the first PADD store was opened in 1974 the three founders had a passion for getting together and discussing horse matters and this passion was shared by their first customers in la rue de la Cavalerie (Paris, 15th arrondissement).
This passion for horses and quality products quickly led to the brand establishing itself as the market leader for equipment for the horse and rider.

Since then, while remaining true to its initial well-earned reputation, PADD has continued to evolve, adapt, and keep up with its customers' changing expectations.
Today, with 60 stores across the country and more to come in the future, this little story is turning into a great adventure.
And this is just the beginning...
Our business mindset
Even though we believe that having an excellent network, a good choice of products, an extensive range of brands, the optimum store size or competitive prices is the basis for an effective and dynamic business, one thing stands out above all other considerations: our unique business mindset.
At PADD, none of our sales team will greet you with an artificial 'sales-person smile' or a scripted sales patter. There is Tony, Rachel, Laetitia, Yann and other men and women who actually have a name, even a first name, a face, experience, expertise and above all, a passion, which they share with you 100%. It is not uncommon to see them sharing a coffee with a client on the edge of a show ring, visiting a customer in the evening to let them try out a saddle at home, or even billing and cooing with the baby, a horse rider of the future in a romper suit, to leave mum in peace to choose the reins she wants.
At PADD, this is not just a marketing strategy but simply a natural expression of the passion we have for our products. This translates into a thousand and one little actions, all for the benefit of our friends, the customer, be they amateur or professional, show jumpers, eventing or dressage riders, horseball players or trekking enthusiasts from 4 to 77 years old. This is all part of the PADD approach.

And this is what we are proud to share with you.
An entrepreneurial spirit
Satisfying our riders' requirements, whatever type of rider they may be, beginners or professionals, whatever their level and discipline, is what we strive to do.
To put this ambitious policy into practise, we need to stay tuned in to the rapidly changing horse riding market, and keep abreast of all new product lines and innovations.
"Whenever I need a harness, a bit or some protective equipment, I usually know exactly what I want. So, in order to save time, I go to PADD, but as soon as I enter the store Rachel is talking about the latest competition and starts putting the world to rights In the end, I didn't actually save any time but at least I found what I wanted and I had a great time!"
Jean-François RONDOUX, professional rider

Photo :Timothée Anciaume, professional rider.

Great customer service
To help you find a complete selection of all the products you need (from food through to stable equipment, saddles and riding equipment), without having to travel too far, we have built a spacious retail area, strategically located and with ample parking.
The competitive spirit
While we are proud to have a buying power that puts us among the leading stores in terms of the number of listed products, quantity and range of stock all this has the ultimate aim of making it possible for us to offer you an exceptional choice of products at attractive prices.
"It's good to have a little fun from time to time. On my last visit I was seduced by a superb pair of high quality lime coloured riding breeches ... and I don't regret it! Especially since I made it up for it when buying breeches for my children. I stuck a blow for those who spend more time on their careers than on their ponies, and at a great price!"

Céline SEBART, amateur rider.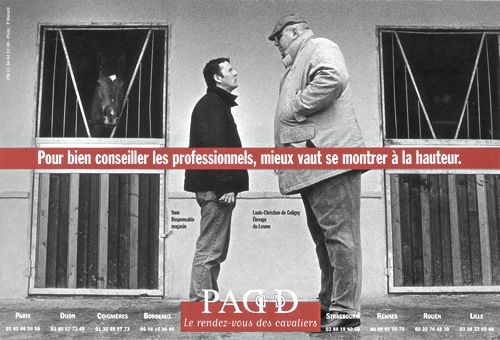 Available everywhere
Always at your side
In addition to our 60 stores throughout France PADD provides a unique local service in France, thanks to our mobile stores which make regular visits to clubs and competition grounds and also regularly attend all the major shows and trade fairs.
A strong team spirit
A unique experience
Because our network provides a much more comprehensive service than your regular run-of-the-mill point of sale, in every PADD store you will enjoy a shopping experience unlike that to be found in any other store.


"At trade fairs, I always meet my friends at the PADD stand so if they are late I can enjoy myself while waiting for them. In fact, sometimes I get there early, on purpose!"

Jacques MARTAN, Groom.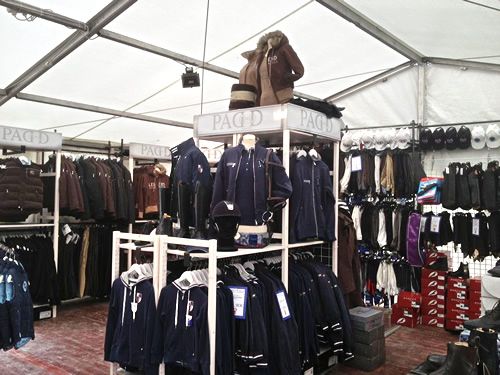 One big happy family
A passion to share
At PADD, there are no faceless customers because, when you share the same passion, you naturally have lots in common, lots to talk about. Despite our different levels of experience, different ages and lifestyles, we all belong to the same family, the family of horse riders.
Rewarding loyalty
Either in-store or on the Internet you only have to make five purchases in two years to qualify for a 5% discount (valid from your sixth purchase) based on the total value of all your purchases over that period. Purchases made more than two years ago are considered as expired and are not taken into account.
FOR EXAMPLE:

Over a period of 2 years you make five purchases with an average value of €70. Total = €350 -> You will receive a discount of €17.5 on your sixth purchase (*).
All this is calculated automatically by our system. You don't have to do anything.

There are some great surprise in store for you ...

(*) See our terms & conditions in-store.